I don't usually make posts like this, but you probably know I have been a huge Wet n Wild supporter for many years. So I feel the need to share with you what has come to light over the past couple of days.

Yesterday Cruelty Free Kitty posted photos of Wet n Wild products being sold in Watsons, a Chinese drugstore similar to CVS. I felt confident that the products must be counterfeit, or were acquired by a third party seller.
Today Wet n Wild finally issued a public statement on their Instagram Stories saying that they have indeed been selling in China since 2018 (despite the fact that they have been saying up until this morning that they are not selling there). It's absolutely shocking to me that they would blatantly lie about this, and not admit it until they were caught red-handed. I personally find this sneaky, deceitful method of selling in China far more offensive than brands like MAC, Benefit, NARS, L'Oréal, and Estée Lauder who at least own up to it.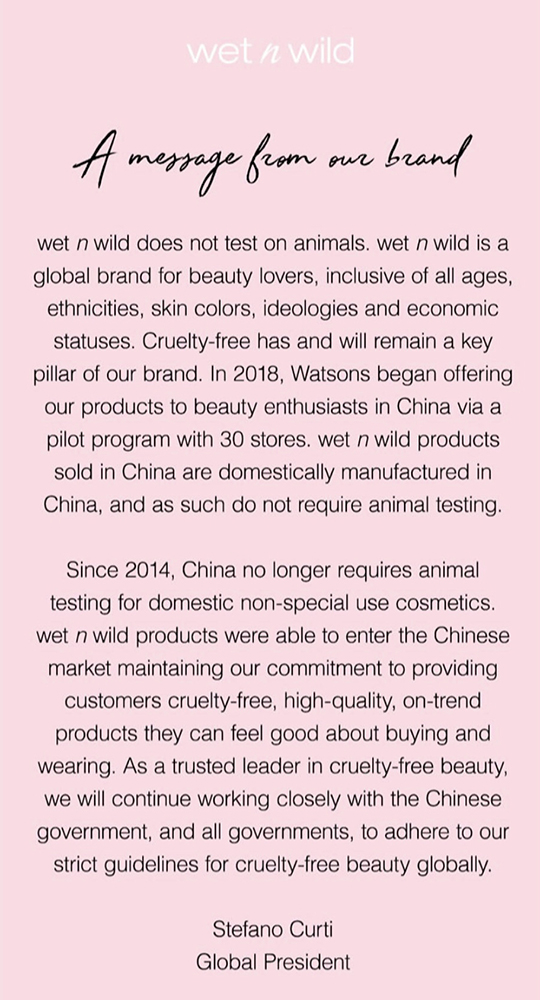 Wet n Wild's statement says their products are manufactured in China and therefore do not require animal testing. This is false. Just because a product is produced in China does not automatically make it exempt from animal testing. They go on to say that non-special use cosmetics are no longer subject to animal testing in China. This is also false. No brand has the ability to bypass post-market animal testing.
There have been articles and rumors flying around that China ended post-market testing, but this is simply not true. The Chinese government still has the ability to pull products for post-market testing at any time. According to Humane Society, the only thing that has changed in China is that "no animal tests are listed for routine post-market surveillance. However, in the case of non-routine tests, eg: a consumer complaint about a product, unless/until authorities accept modern non-animal eye/skin irritation tests, & invest in local infrastructure to use such tests, animal testing could still be the default. Pre-market cosmetic animal testing in China for foreign imports and special-use products, remains unchanged." The only way around this would be to sell to China exclusively via e-commerce, which is the route the elf is taking (but Wet n Wild is not).

I am devastated by this news. Based on this information, I no longer consider Wet n Wild to be cruelty-free. If I learn anything that changes this, I will absolutely let you all know.

Thank you to Cruelty Free Kitty  for the initial information and to Logical Harmony for helping me have the confidence to post this, as well as additional info.