A couple of times a year I like to update you on my latest hair care regimen for my pastel pink locks. My journey in search of the perfect at-home system for bleached hair started about a year and a half ago when I destroyed my hair due to improper care. Ever since then, I have researched, tested, and experimented in order to develop the system that I now I use. Without it, I would not have been able to grow my short, fried locks into the long and full mane I have now! Though I'm extremely pleased with how my regimen is now, I'm sure that it will continue to evolve as I learn more.
How To Maintain Pink Hair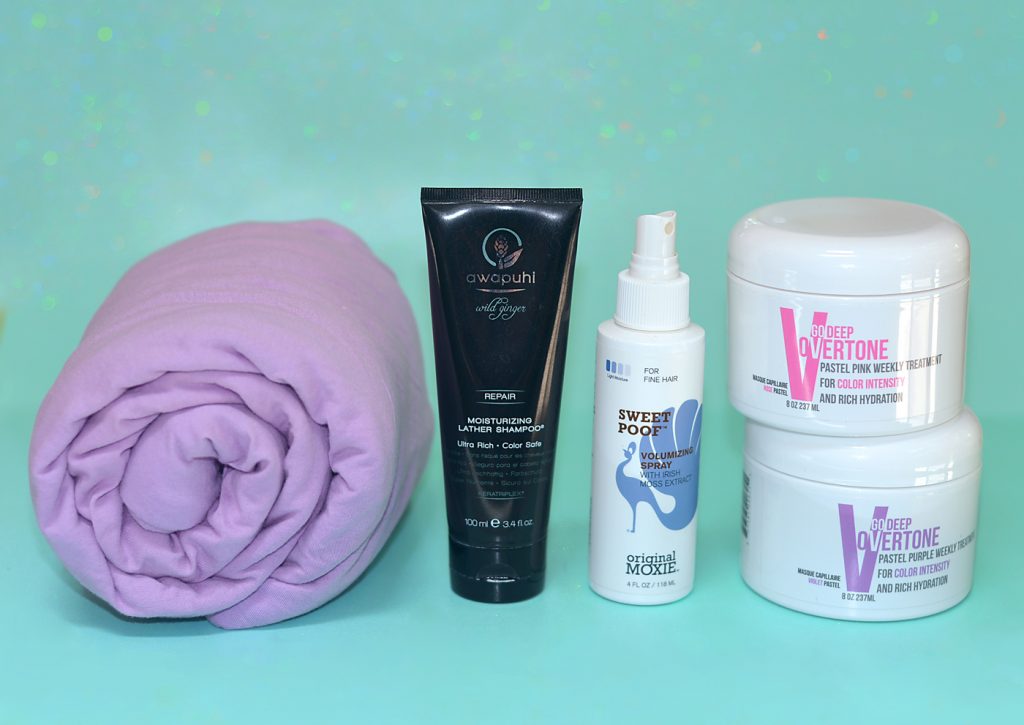 Start at the Salon
Unfortunately, bleaching your hair is necessary in order to achieve a pastel color. Your hair must be very light blonde in order for your color to be light and not warm/brassy. It is crucial to go to a professional for this step. No matter what, bleach is damaging, but if done incorrectly and without the utmost care, your hair break off. It is also vital to go to a professional who uses a bond builder mixed with their bleach. These products lessen the damage to the hair. I get my roots bleached every 8 weeks. My hairdresser also lays down a base pink color for me so that when I leave the salon my hair is freshly pink and even from root to tip.
Wash & Maintain
I wash my hair as little as possible. Luckily, bleached hair does not get nearly as oily as regular hair, especially when it's freshly bleached! I got my hair done just over a week ago and I have not washed it since. Despite enjoying sweat-drenching workouts 6 days a week and rarely using dry shampoo, I should be able to go another few days before I need to rinse it. When it does get greasy, I co-wash it with a mixture of Overtone Pastel Pink and Pastel Purple color depositing conditioners. Co-washing is rinsing and scrubbing your scalp with conditioner. Every few weeks I will shampoo as well, but I avoid doing this as much as possible since it removes color. Right now I am really liking the Paul Mitchell Awapuhi Wild Ginger Moisturizing Lather Shampoo because it is ridiculously moisturizing and gentle. Some amount of color fade is still unavoidable, so when I notice any, I will mask my dry hair with my Overtone conditioners for about an hour.
Avoid Heat
Since bleach is so damaging, it's important to minimize any other damage to my delicate strands. I always air dry my hair and I love using my Hair Remedie towel to minimize my dry time. I form a turban with this soft cotton towel after I wash my hair and wear it for about 10 minutes. When I take it off, my hair is barely damp and my curls are already developing frizz-free definition. I then apply a small amount of argan oil (this one by Josie Maran is on my wishlist). I like to scrunch my natural curls with Sweet Poof Volumizing Spray or Hold Up Defining Serum from Original Moxie, and I skip the diffuser and just air dry. I also like letting my hair dry without scrunching and then use these foam curling rods (I only use the purple and grey sizes) when it is 99% dry. Both of these methods will sometimes yield a couple wonky curls, and I will go in and fix just those few sections with my curling iron on low heat.
Protect While You Sleep
The primary way that I ruined my hair a couple years ago was my not caring for it properly while I slept. I slept with it in a damp bun, which is the absolute worst thing you can do! You roll around and rub your head on your pillow way more than you think, and this friction can cause serious breakage (which may look like frizz or "baby hairs" around the crown). I learned the hard way, but now I always sleep on satin pillowcases and with my hair in a satin sleep cap. I use this pillowcase and this satin scarf. The difference that doing this for a year has made is astounding. No more patches of breakage or short hairs around my face and nape of my neck!
I know this may all sound like quite a bit of work, and in truth, it is. Maintaining pastel hair is definitely not for a wash-and-go kind of person. For me, this routine has become habit and I actually really enjoy caring for my signature pink locks.
OUTFIT
This post contains affiliate links and PR samples.
Photos by katebackdrop.