This conversation has been sponsored by L'BRI and contains PR samples. As always, all opinions are my own.
L'BRI is one of my favorite all-natural skincare brands, so when they reached out to me about trying their cruelty free cosmetics, I was thrilled! They sent me a variety of their makeup products to try, and as I started to play around, I genuinely couldn't help but throw together an edgy holiday-inspired look. Some may say it's too early, but I put my Christmas tree up over a week ago already. What can I say – I'm just really in the holiday spirit this year! Read on to hear about the L'BRI products I used for this look.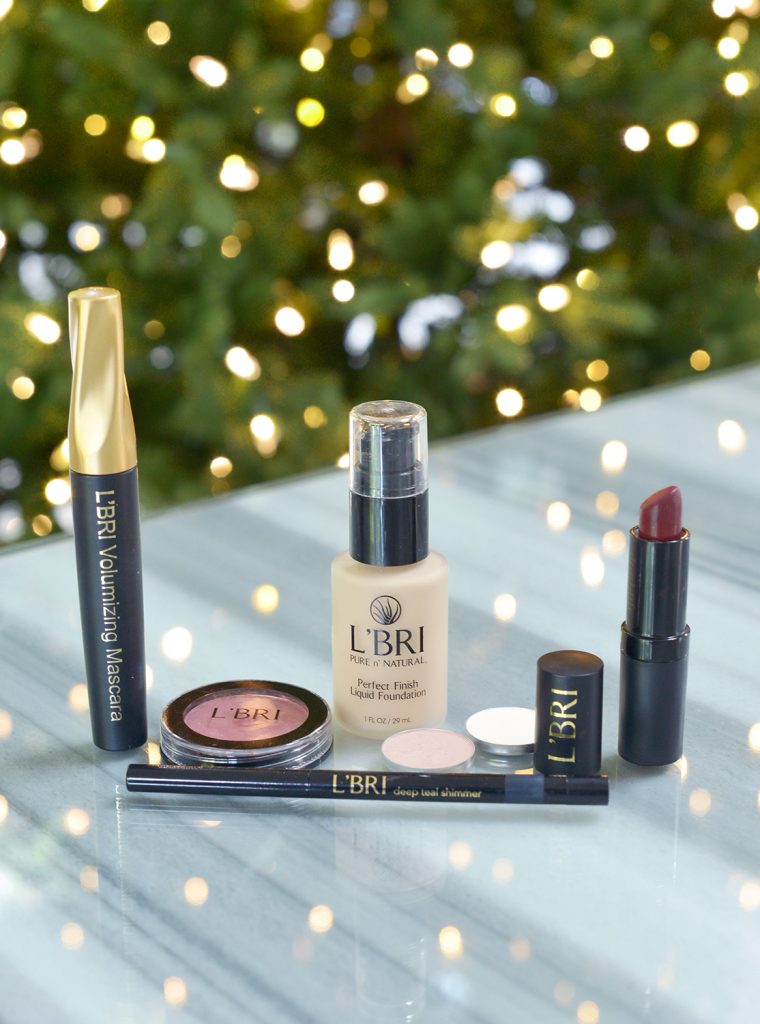 L'BRI Velvet Touch Retractable Eye Liner – Deep Teal Shimmer
What a gorgeous eyeliner! I like that it is retractable so it never needs to be sharpened. It is velvety and richy-pigmented. I am impressed that it applies so smoothly that I was able to create this avant garde eyeliner shape without the aid of any brushes or other tools. The teal color is lovely and perfect for fall or holiday makeup looks. I had never tried this eyeliner shape before but I'm honestly kind of obsessed now! I want to revisit it with other colors.
L'BRI Volumizing Mascara – Deepest Black
The L'BRI Volumizing Mascara is a nice every day mascara. It is enriched with aloe, herbs, botanicals, and vitamin E so your lashes are conditioned and strengthened while you wear it. I love dramatic lashes so I paired it with falsies for this look. The formula is very smooth so it worked nicely with my false lashes and did not clump on top of them like a lot of mascaras do.
L'BRI Perfect Finish Foundation – 01
The Perfect Finish Foundation is a lightweight, aloe-based foundation with medium coverage. It has a skin-like, natural-looking finish. The shade offerings are quite limited and all fall within the light/medium to medium shade range. As long as your complexion is not dark or very fair, you should be able to find a good match! As I do with many foundations, I mixed my white NYX Pro Foundation Mixer with L'BRI's 01 and custom mixed a perfect match.
This eyeshadow is an awesome multi-tasking warm nude shadow for my complexion! This is definitely going to become a go-to shadow for me. It looks beautiful and natural worn alone in my crease to contour my eyes, or all over my lids like I did for this look. It is also an excellent transition shade for dark eyeshadow looks. All of L'BRI's eyeshadows come as a refill and can be popped into any magnetized palette.
L'BRI Pearl Eye Shadow – Lingerie
Such a pretty pearly shade! For this look I actually used it as a highlighter. It is not super pigmented, but the color can be built up easily. Just like with "Nude", it comes as a refill.
This lipstick is super creamy and comfortable to wear. It is rich in aloe, shea butter, vitamin E, grape seed oil, and jojoba oil so it is ultra moisturizing and reparative. It applies beautifully and has a lovely satin finish.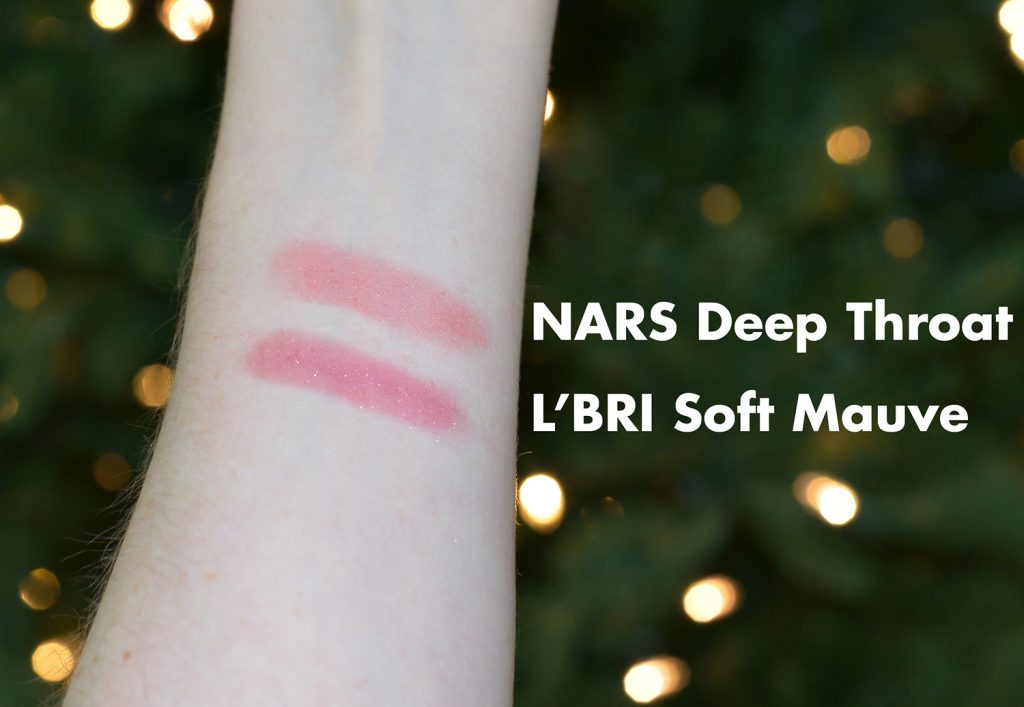 L'BRI Believable Finish Blush – Soft Mauve
I don't wear blush much these days, but when I do, I like it to look natural. The L'BRI Believable Finish Blush in Soft Mauve is a universally-flattering neutral pink with a subtle shimmer. This blush is a nice cruelty free dupe of NARS Deep Throat. It is not an exact dupe and is slightly less peachy than Deep Throat, but I think they are quite similar. Like Deep Throat, the shimmer does not look sparkly but rather imparts a pretty glow. I actually find L'BRI Soft Mauve to be even more pigmented than NARS Deep Throat, and it is less than a third of the price ($9.50 vs. $30).
I hope you like this fun holiday look! I'm looking forward to creating plenty more over the next several weeks. Let me know if you have any requests!