This conversation has been sponsored by Urban Beauty United and contains PR samples. As always, all opinions are my own.
Whether you're heading back to school or are just enjoying the last bits of this blazing hot summer, now is the perfect time to let your skin breathe by playing with simple, no-foundation makeup looks. It's easy to look fresh, glamorous, and pulled-together even without foundation by following just a few simple steps.
How To: No Foundation Natural Makeup Look
1. Start With Skin Care
Almost everyone will need to do some spot covering with concealer when doing a no-foundation look so don't feel discouraged about that! However, the clearer your skin is, the easier a look like this will be. Right now my skin is the clearest and smoothest it has been since I was a teen, and I have my skincare regimen to thank for that. I experiment with a lot of different skincare products all the time. However, there are a handful that have made a huge difference in my oily skin over the last several months and have permanent spots in my routine. Thanks to these products, my pores are drastically smaller and less congested, my skin is far less oily, and I almost never have breakouts anymore! First, my holy grail cleanser is Pixi Glow Mud Cleanser. It cleans out my pores without drying my skin. I use it morning and evening and follow it with Pixi Glow Tonic and then Paula's Choice Skin Perfecting 2% BHA Liquid. These two products shrink my pores, keep my skin super smooth, and fight acne. In the evening, I apply Pixi Overnight Glow Serum which I find further enhances what the Glow Tonic and Paula's Choice are doing. At night, I then finish up with my L'BRI Aloe Vera Jelly as my super lightweight moisturizer. In the morning I skip the Pixi Overnight Glow Serum and go right to my L'BRI Aloe Vera Jelly, and then finish up with my MDSolarSciences Mineral Creme SPF 50. This is my favorite sunscreen because it is completely matte. I have absolutely no doubt in my mind that it is this combination of products that have gotten my skin to the level of clarity it has right now!!
2. Don't Skimp on the Brows
After prepping your skin, brows are the next step for this look. My personal preference is to go with a strong brow regardless of how natural the rest of the look is. I just love how they frame my face and help me to look polished. Right now my go-to brow products are Anastasia Dipbrow Pomade in Taupe, Full Brow Wax, and Wet N Wild Ultimate Brow Highlighter to carve them out. This trio of products are my brow holy grails!
3. Those Lashes Though
Once I was done with my brows, I moved on to my lashes. Even though I'm not wearing any eyeshadow or eyeliner, I wanted to have big fluttery lashes. I started by curling my eyelashes and applying Urban Decay Troublemaker Mascara (available on 9/5/17). Then I popped on a set of super natural-looking True or False lashes from Urban Beauty United. Lastly, I melded the falsies with my natural eyelashes with a coat of Buxom Big Tease Plumping Mascara.
4. No Shame in That Concealer Game
This look does not include foundation, but let's be real – we all need a little concealer in our lives. I applied Wet N Wild Photo Focus Concealer in Light Ivory under my eyes and on a couple of discolored spots. Then I set my under eyes using Ben Nye Neutral Setting Powder on a tapered fluffy brush.
5. Highlight, Contour & Blush
I think liquid highlighters look beautiful and natural on naked skin, so I applied NYX Away We Glow Highlighter in Moon Glow on my cheekbones, nose, chin, and Cupid's bow. Since the other cheek products I was using were powder, it was important to apply the liquid highlight first to ensure smooth application. Next I contoured with Physician's Formula Matte Sculpting Contour Palette and applied just the tiniest bit of The Balm blush in Balm Beach. I actually fell in love with how smoothly and easily contour and blush applied on my bare skin. It blended so easily!
6. My Lips But Better
I'm always on the hunt for MLBB (my lips but better) lippies. Using a lipstick or gloss in a similar shade to your own lips is the perfect way to look pulled together yet still natural. For this look I opted to apply only Pop Beauty Pout on Point lip liner in Kinky Pink  (available on 9/20/17) to define my lips and then feathered it inward. Then I topped it off with a bit of my favorite lipgloss – LipSense Glossy Gloss.
7. Spray Then Slay
Once you finish with your favorite setting spray, you're ready to slayyy! Even though you aren't wearing foundation, this is still an important step. I always use my Cover FX Illuminating Setting Spray because it adds even more glowy-ness to my skin.
What do you think of this look? Would you ever try a makeup look without foundation?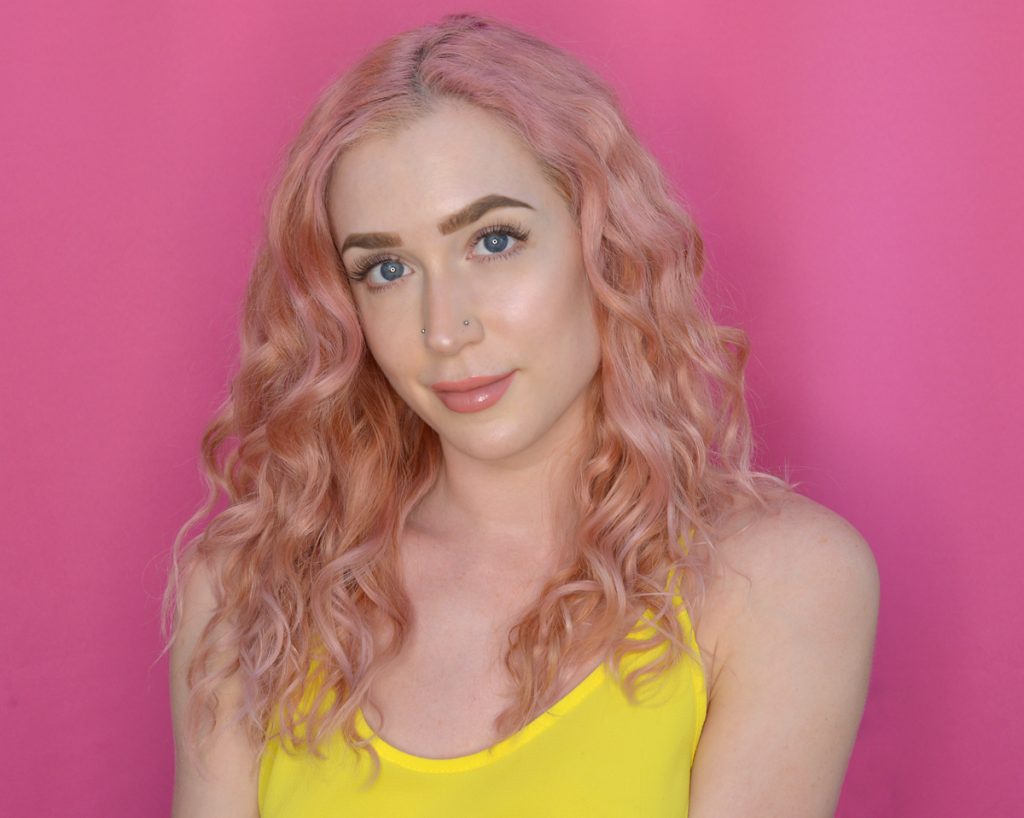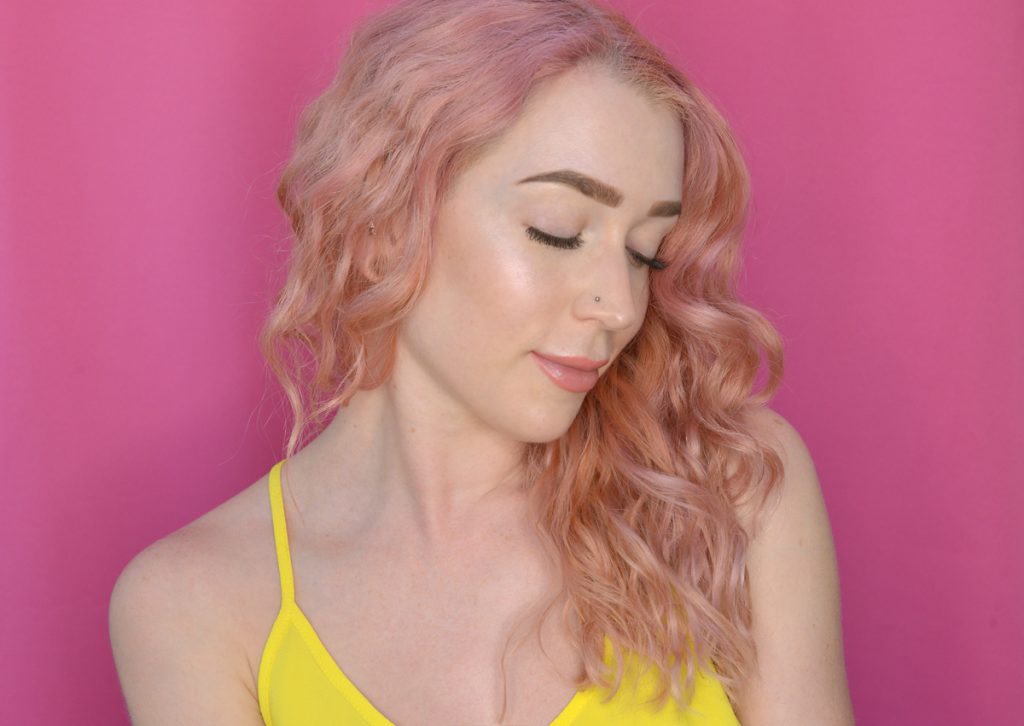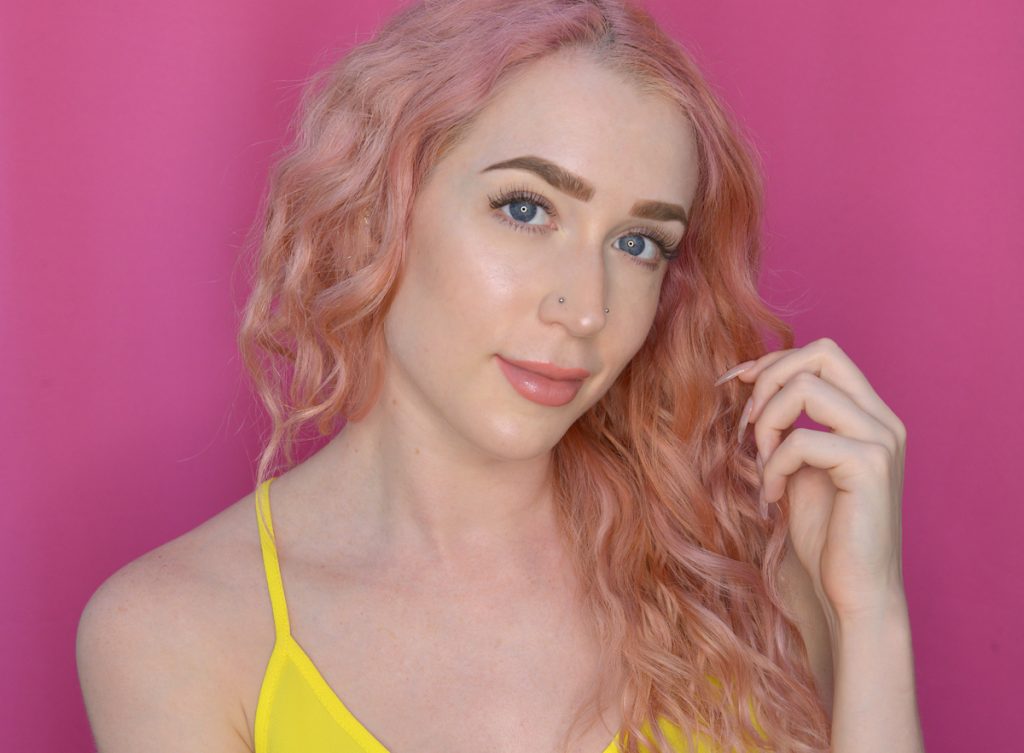 Be sure to check out our Makeup Ideas section before you go.